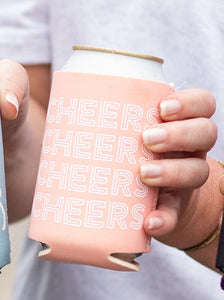 This is a classic, aluminum-can-hugging, neoprene coozie. It's built tough for a long day at the lake, the beach, the pool, or in your backyard dreaming of those places. This particular coozie is a dusty rose color with distressed type spelling out CHEERS, CHEERS, CHEERS, so use it responsibly for toasts, roasts, or, as we say, cheers-ing.
• Dimensions: 3.5" W x 5" H x 5" Diameter
• Designed in Nashville, Tennessee.