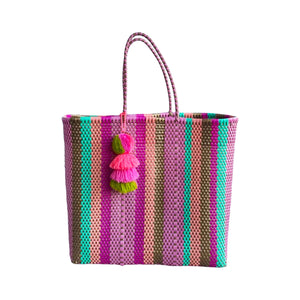 Hand crafted bags made from 100% recycled plastic. Perfect for your every day lifestyle.
Our Squeeze De Citron bags are ethically made and gracefully sourced by Mexican artisans using our in house designs. These bags take 7 - 10 days to make one. Our bags are hand woven with 100% PVC recycled plastic. We offer a sustainable program for our USA clients on our website. Our Citron bags are inspired by life sharing happiness, joy and doing good by making an impact. Each bag creates sustainable jobs for our artisans.

Each bag may vary in size and small color detail since they are hand made by different artisans.
X LARGE BAG
Length: 18,9 in
Width: 9,4 in
Height: 19,7 in
Wipe with a damp cloth and allow to air dry. When used on the beach, rinse bag with a hose and the sand will self-drain through the small fibers of the bag. These artisan bags are flexible, allowing them to be bent and folded without damage. To maintain its shape, store in its original condition. Each bag is handmade and small frays are common.
Our Citron bags can handle the following weights:

XLarge: 40 lbs
The bag is hand weaved and it will break if not respecting these limits.